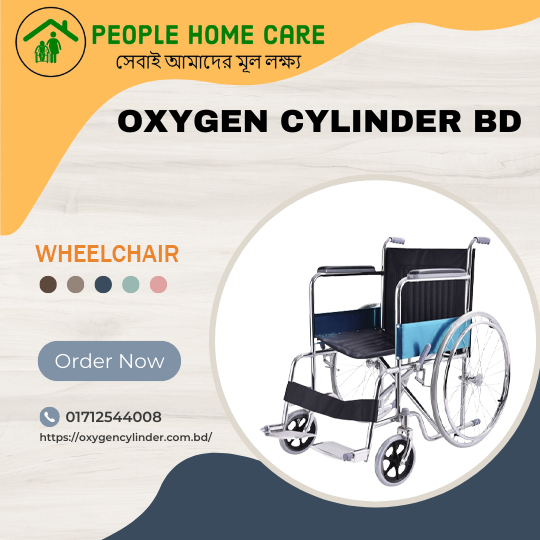 Product details of Wheel Chair KY809 -Black & Silver
Type: Wheelchair
Frame: Chromed Steel
Upholstery: Pvc SeatAnd …
Description
Wheelchair price Bangladesh BD
Oxygen cylinder bd provides a high-quality WheelChair at the best price in BD Call us to get our services. 01712544008
Type:  Wheelchair
Frame: Chrome Steel
Upholstery: Pvc seat and Back
Function: Fixed Foot And Armrest
Foot Plate: Aluminum
Seat Width: 40-46cm
Front Castor: 8 "Pvc
Rear Wheel: 24″ Spot Wheel Solid Tyre
Side Plate: Stainless Steel Plate.
PLACE OF ORIGIN: CHINA
PRODUCT NAME: STEEL WHEELCHAIR
FEATURES: STANDARD STEEL WHEELCHAIR
FRAME: STEEL FRAME
FRAME COLOR: CHROME FRAME COLOR
ARMREST: FIXED, PVC ARMREST
SEAT: PVC SEAT
FOOTREST: FIXED FOOTREST
FOOTPLATE: ALUMINUM FOOTPLATE
Economic chromed steel wheelchair for the elderly, sick, handicapped and users with commodity requires * Stainless, aging resistant chromed steel frame * Ergonomic design based on human waists' physiological curvature offering maximum comfort for users. Durable, absorbing shock.
Get Your Medical Item in Your Home, We are selling oxygen cylinder, oxygen concentrator, wheelchair, medical oxygen cylinder & any kinds of oxygen cylinder. provides a high-quality wheelchair price Bangladesh.
Wheelchair Price in BD | Wheelchair. Wheelchair Price in Bangladesh. Standard Manual Folding Wheelchair KY-809. This KY-809 standard manual folding wheelchair is designed for the older, sick, and handicapped. This wheelchair is made of an A3 steel frame, high strength stainless. You can easily fold it and take it anywhere. There are aluminum footplates that allow the patient to keep their feet comfortable and there are two wheels to rotate the front.