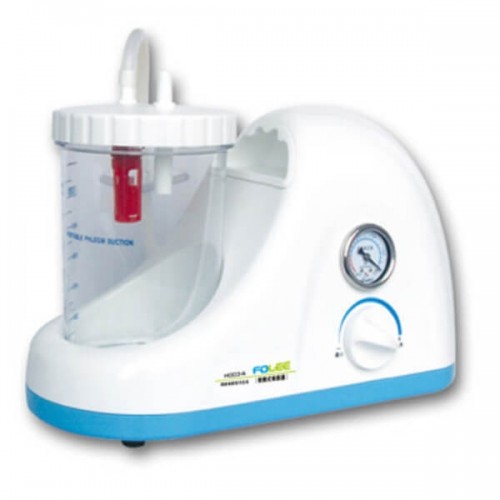 H003 Suction Machine is a newly designed oil-free lubrication pump based on extensive design experience and development of domestic and overseas …
Description
H003 Suction Machine is a newly designed oil-free lubrication pump based on extensive design experience and development of domestic and overseas products. It is specially designed for absorbing thick liquids such as blood, phlegm, etc. it is not only used as an aspirator in the operation room, and emergency room but also at home as a health care product.
Phlegm Suction Machine Features:
1. High negative pressure, large flux, low noise. It is a brand new mechanism design with a suction bottle hidden inside completely made of plastic. This design not only reduces the working noise but also makes it more fashionable and precise.
2. It adopts an advanced overflow-protection design, which can prevent pus and mucus from leaking into the machine
About Suction Machine: A suction machine, also known as a medical aspirator, is an indispensable device for anyone in need of respiratory care. In Bangladesh, these machines play a crucial role in providing effective and immediate relief to individuals facing breathing difficulties. Designed to remove unwanted fluids, such as mucus, secretions, or foreign particles from the airways, a suction machine ensures clear and unobstructed breathing, promoting overall well-being.
Key Features:
Powerful Suction: Suction machines in Bangladesh are equipped with robust suction capabilities, ensuring efficient removal of respiratory obstructions and maintaining airway hygiene.
Customizable Settings: Many suction machines come with adjustable suction levels, allowing healthcare providers to tailor the device to the specific needs of each patient, from infants to adults.
Portability: Compact and lightweight options are available, making it easier to transport the device as needed, whether at home or in a clinical setting.
User-Friendly Operation: Intuitive controls and clear displays make these machines user-friendly, enabling caregivers and medical professionals to provide the best care.
Durability: Built with high-quality materials, suction machines are designed to withstand the demands of continuous use, ensuring long-term reliability.
Versatile Power Options: Many models can be powered using standard electrical outlets and are often equipped with backup battery options for uninterrupted operation during power outages.
Price in Bangladesh: The price of a suction machine in Bangladesh can vary depending on the brand, model, features, and specifications. To find the most up-to-date pricing information, it's advisable to contact local medical equipment suppliers, and healthcare providers, or browse online retailers. It's essential to choose a suction machine that best suits the specific needs of the patient and consult with healthcare professionals for guidance.
Investing in a suction machine is an investment in respiratory health, offering peace of mind for patients and caregivers alike. Whether you're seeking a reliable solution for home care or a clinical environment, a suction machine in Bangladesh provides efficient and effective respiratory support when it matters most.