Description
Oxygen Cylinder Rental and Refill Service in Dhaka Bangladesh – Free Home Delivery in Dhaka City.
Refilling an oxygen cylinder is a crucial process to ensure that the cylinder is safely and properly filled with the required amount of oxygen. It is important to regularly refill the cylinder to ensure that it is always available when needed.
In Bangladesh, there are several oxygen cylinder refilling stations that can refill medical oxygen cylinders of various sizes and capacities. These stations use high-pressure oxygen compressors to fill the cylinder with oxygen, and the process usually takes about 50 minutes to an hour.
The cost of refilling an oxygen cylinder in Bangladesh varies based on the size of the cylinder and the amount of oxygen required to fill it. On average, the cost of refilling a cylinder ranges from BDT 800 to BDT 900.
In conclusion, refilling an oxygen cylinder is a necessary process to ensure its availability and safety, and it should be done regularly. Only authorized refilling stations should be used, and the cylinder should be thoroughly checked before and after refilling to ensure its safety and reliability. The cost of refilling an oxygen cylinder in Bangladesh varies based on the size of the cylinder and the amount of oxygen required to fill it.
Get emergency oxygen cylinder rental & Refill service in Dhaka Bangladesh and get free home delivery in Dhaka city within a maximum of 50 minutes.
Free home delivery is available for monthly oxygen cylinder rental services in Dhaka city only.
package.
Medical Oxygen Cylinder Refill: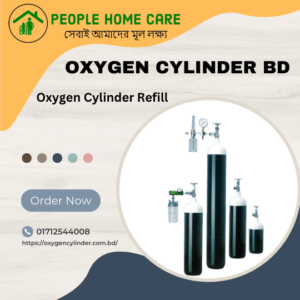 Medical portable oxygen cylinder china brand
We can supply the Medical portable oxygen cylinder Standard china and linde brand made of material with a trolley as a package, which will bring great convenience for you and shall be fit for medical, healthcare, and family usage. Also, all of our portable oxygen cylinders are all passed ISO 13485 inspection system.
Small and portable oxygen devices which are fit for first-aid and health care of hypertension and heart disease etc.
Oxygen Cylinder Features: Medical portable oxygen cylinder refill brand
It is equipp with a valve, regulator, humidifier, and nasal cannula
Comes with a portable adjustable trolley, which can move everywhere
Quick Details:
Type: Standard

Cylinder with Gas

Symbol: 02

Size: Medium / Standard

Condition: New

Oxygen Flow Meter

Weight: 14 KG

Height : 3 FT

Pressure: 1800/2000 Litter

Ref : 800 / 1000 Taka

Government Approved

Made in China

Cash On Delivery

Free Home Delivery

Delivery Time: 1.3 Hours

Support: 24/7
Oxygen Cylinder Rent- Daily- 500 Taka.
Oxygen Cylinder Rent – Weekly – 2500 Taka.
(Delivery and setup charges of 1,000 takas will be add to daily and weekly packages)
Oxygen Cylinder Rental – Monthly – 5,000 takas (Free Home Delivery & Setup).
Oxygen Cylinder Rent and Refill Service Near me in Dhaka City at the Best Price.
Usually, the oxygen cylinder refill price in Dhaka is 800 to 1000 taka (it depends on the cylinder size and position). But if you want to get a home delivery service, delivery charges will. We only provide home delivery service as our home-based service.
We understand your urgency, so we always try to deliver the refill in Dhaka city within 40 to 60 minutes.
Oxygen cylinder home delivery price in Dhaka city is 800 to 1000 taka.
Details are below: (Not enough time to read? Just call us at +8801712544008
If you have a patient at home, oxygen may be needed for any type of medical emergency, anytime, anywhere. So, be prepar with guidelines to deal with any kind of emergency and find the oxygen cylinder as soon as possible to provide first aid.
Oxygen cylinder rental can be a great and effective option for you if you don't want to buy a cylinder. Here, we have compiled a list of where to buy/rent/refill oxygen cylinders in Bangladesh. Some of them offer free delivery within a short period of time. Here you can find businesses that offer home delivery for your convenience.