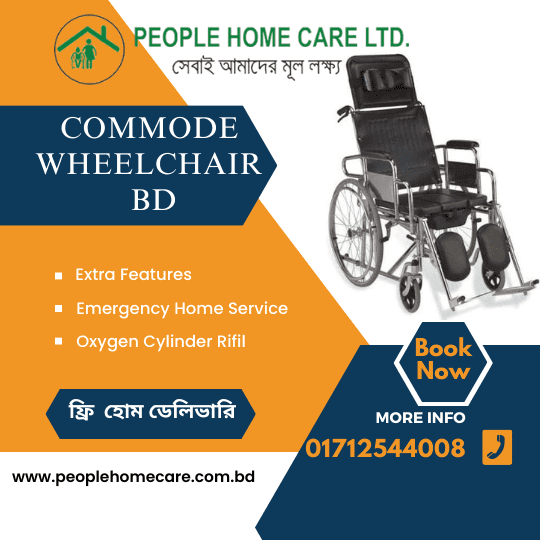 Features and specifications for a commode wheelchair can vary depending on the specific model and brand, but here are some common features and …
Description
Features and specifications for a commode wheelchair can vary depending on the specific model and brand, but here are some common features and specifications that you might find in a typical commode wheelchair:
Features for Best Commode Wheelchair price in BD
Dual-Functionality: The primary feature of a commode wheelchair is its dual functionality, serving as both a wheelchair for mobility and a commode for toileting.
Foldable Design: Many commode wheelchairs are foldable for easy transport and storage, making them convenient for travel or limited space.
Adjustable Height: Height-adjustable footrests and seats allow users to find a comfortable position.
Removable Armrests: Some models have detachable armrests for easier side transfers and positioning.
Reclining Backrest: A reclining backrest provides additional comfort, especially for individuals needing extended periods in the chair.
Wheels with Locks: The wheels come with locking mechanisms to ensure stability when transferring to and from the chair and using it as a commode.
Hygienic Commode Pan: The commode pan is usually removable and easy to clean, helping maintain hygiene.
Safety Belts: Some commode wheelchairs feature safety belts to secure the user in place during transit.
Easy-Clean Materials: Commode wheelchairs are often made of materials that are easy to clean and disinfect to maintain cleanliness.
Durable Construction: Sturdy frames and materials are essential for user safety and longevity.
Padded Seat and Backrest: Padding on the seat and backrest enhances comfort, especially during extended periods of use.
Specifications for Best Commode Wheelchair price in BD
Weight Capacity: Commode wheelchairs typically have weight capacities ranging from 250 to 400 pounds (113 to 181 kilograms) or more, depending on the model.
Seat Width: The seat width varies but is generally between 16 to 20 inches (40 to 51 centimeters) to accommodate different body sizes comfortably.
Seat Depth: Seat depth ranges from 16 to 18 inches (40 to 46 centimeters) to provide proper support and comfort.
Wheel Diameter: The wheel diameter varies, but rear wheels are often larger for self-propulsion, while front wheels are smaller for easy maneuverability.
Overall Dimensions: The overall dimensions of a commode wheelchair can vary, but typical measurements may be around 24 to 28 inches (61 to 71 centimeters) in width and 36 to 40 inches (91 to 102 centimeters) in height.
Frame Material: The frame is usually made from steel or aluminum, ensuring strength and durability.
Folded Dimensions: Folded dimensions are important for storage and transport. They might be around 10 to 12 inches (25 to 30 centimeters) in width.
Wheelchair Weight: The weight of the commode wheelchair itself can vary but is typically around 35 to 50 pounds (16 to 23 kilograms) to make it manageable for caregivers and users.
Toilet Opening Size: The size of the toilet opening is crucial for user comfort. Standard dimensions may be around 8 to 9 inches (20 to 23 centimeters) in diameter.
Braking System: Wheelchairs should have reliable braking systems to ensure safety when the chair is not in motion.
We are all over Bangladesh and Dhaka, providing nursing services and the Best Commode Wheelchair price in BD for rent/Sell. Contact us if you need to Hospital Patient Commode Wheelchair in Dhaka. We have 7 days, 10 days, and 30 days packages for  Commode Wheelchair rent.
Best Commode Wheelchair Price in BD Rent/ Sell Service in Dhaka Bangladesh – Free Home Delivery.
Get Emergency  Hospital Commode Wheelchair Rent/Sell  Service in Dhaka Bangladesh and Take Free Home Delivery in Dhaka City within 60 Minutes
+8801712544008. Free Home Delivery is available only for ALL Packages.
It's important to note that commode wheelchairs come in various models, each with its own unique features and specifications, catering to the specific needs and preferences of users. When selecting a commode wheelchair, it's crucial to consider the individual's requirements and consult with healthcare professionals or therapists to ensure it meets their specific needs.