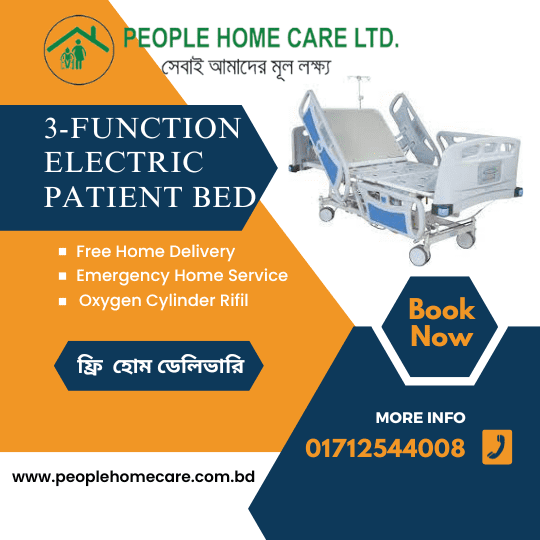 Specifications: 3 Function Electric Patient Bed Price in BD
Weight Capacity: 3-function electric patient beds typically have weight …
Description
A 3-function electric patient bed is a versatile piece of medical equipment designed to provide comfort and convenience for patients while aiding healthcare providers in delivering better care 3-Function Electric Patient Bed Price in BD, Below are the typical features and specifications you might find in a 3-function electric patient bed:
Features:
Adjustable Backrest: The backrest can be electrically raised or lowered to allow patients to sit up or recline for various activities, such as eating, reading, or watching TV.
Knee and Leg Elevation: The bed can electrically elevate the knee and leg sections, promoting improved circulation and patient comfort.
Height Adjustment: The entire bed's height can be electronically adjusted to facilitate ease of access for both patients and caregivers.
Side Rails: Integrated side rails enhance patient safety, prevent accidental falls, and can be lowered for patient mobility or transfers.
Wheels with Locking Mechanism: The bed is equipped with wheels for easy mobility and positioning, with a locking mechanism to secure the bed.
User-Friendly Controls: Hand controls with intuitive buttons make it easy for patients or caregivers to adjust bed positions and functions.
Integrated Overbed Table: Some models may come with an overbed table for patients' convenience, providing a surface for meals, reading, or using electronic devices.
Specifications: 3 Function Electric Patient Bed Price in BD
Weight Capacity: 3-function electric patient beds typically have weight capacity ratings ranging from 300 to 500 pounds, making them suitable for a wide range of patients.
Frame Material: The bed frame is typically constructed from sturdy and easy-to-clean materials, such as steel or aluminum, ensuring durability and hygiene.
Mattress Size: These beds accommodate standard-sized hospital mattresses, with common dimensions ranging from 36 to 42 inches in width and 80 to 84 inches in length.
Power Supply: These beds are powered by an electrical system, often with a control panel, and may include a battery backup to ensure continued functionality in the event of a power outage.
Safety Features: Safety features can include locking mechanisms to prevent unintended bed movement, emergency stop buttons, and options for lowering the bed to the floor in case of patient falls.
Certifications: 3-function electric patient beds should meet relevant safety and quality standards, such as FDA, CE, and ISO certifications.
Height Adjustment Range: The bed's height adjustment range can vary but often spans from 18 to 30 inches to accommodate various patient needs and caregiver requirements.
Control Interface: Patient beds with electrical adjustments should feature user-friendly controls for ease of operation.
Warranty: Manufacturers often provide warranties for their patient beds, with the duration varying based on the brand and model.
We are all over Bangladesh and Dhaka, providing nursing services and 3 functional Electric Hospital Patient Beds for rent. Contact us if you need to Hospital Patient Bed in Dhaka. We have 7 days, 10 days, and 30 days packages for  3 function Electric Hospital Bed rent.
3 Function Electric  Hospital Patient Bed Rent Service in Dhaka Bangladesh – Free Home Delivery.
Get Emergency 3  Function Electric Hospital Bed Rent Service in Dhaka Bangladesh and Take Free Home Delivery in Dhaka City within 60 Minutes
+8801712544008. Free Home Delivery is available only for ALL Packages.
These features and specifications make 3-function electric patient beds a valuable asset in healthcare settings, offering enhanced comfort, safety, and versatility for both patients and caregivers.