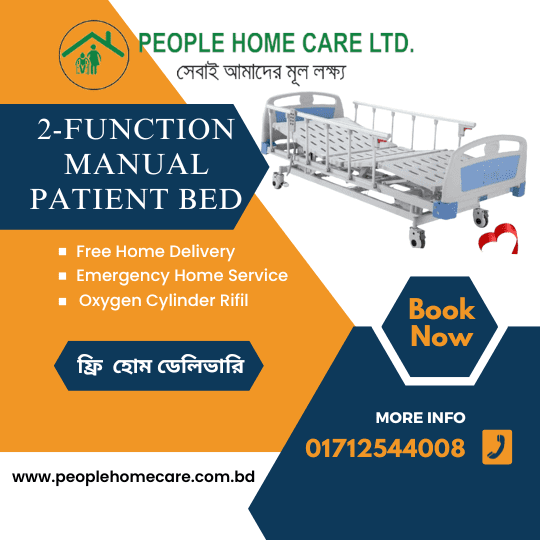 A 2-function manual patient bed is a basic medical equipment designed for patient care in healthcare settings. Below are the typical features and …
Description
A 2-function manual patient bed is a basic medical equipment designed for patient care in healthcare settings. Below are the typical features and specifications you might find in a 2-function manual patient bed, although please note that the availability and pricing of such beds may vary in Bangladesh (BD):
Features for 2 Function Manual Patient Bed Price in BD
Adjustable Backrest: The backrest can be manually adjusted to allow patients to sit up for activities like eating, reading, or watching TV.
Knee and Leg Elevation: The knee and leg sections are not adjustable in 2-function manual beds. The bed typically allows for simple head positioning adjustments.
Height Adjustment: The entire bed's height can be adjusted manually to facilitate ease of access for both patients and caregivers.
Side Rails: Some models may come with side rails that can be raised for patient safety or lowered for patient mobility and transfers.
Wheels with Locking Mechanism: The bed is equipped with wheels for easy mobility and positioning, with a locking mechanism to secure the bed.
Easy-to-Clean Design: The bed frame and mattress should be designed for easy cleaning and maintenance to ensure a hygienic environment.
Specification For 2 Function Manual Patient Bed Price in BD
Weight Capacity: 2-function manual patient beds typically have weight capacity ratings ranging from 250 to 350 pounds, making them suitable for a range of patients.
Frame Material: The bed frame is typically constructed from durable and easy-to-clean materials, such as steel or aluminum, ensuring durability and hygiene.
Mattress Size: These beds accommodate standard-sized hospital mattresses, with common dimensions ranging from 36 to 42 inches in width and 80 to 84 inches in length.
Safety Features: While manual beds do not have electronic safety features, some may include locking mechanisms to prevent unintended bed movement and options for adding additional safety features like side rails.
Height Adjustment Range: The bed's height adjustment range can vary but is more limited compared to electric beds. It often spans from 18 to 24 inches to accommodate various patient needs and caregiver requirements.
Control Interface: Manual beds do not have an electrical control interface, as adjustments are made manually.
Warranty: Manufacturers often provide warranties for their manual patient beds, with the duration varying based on the brand and model.
We are all over Bangladesh and Dhaka, providing nursing services and 3 functional Electric Hospital Patient Beds for rent. Contact us if you need to Hospital Patient Bed in Dhaka. We have 7 days, 10 days, and 30 days packages for  3 function Electric Hospital Bed rent.
3 Function Electric  Hospital Patient Bed Rent Service in Dhaka Bangladesh – Free Home Delivery.
Get Emergency 3  Function Electric Hospital Bed Rent Service in Dhaka Bangladesh and Take Free Home Delivery in Dhaka City within 60 Minutes
+8801712544008. Free Home Delivery is available only for ALL Packages.
For the current price of a 2-function manual patient bed in Bangladesh (BD), it is recommended to contact local medical equipment suppliers, and healthcare equipment stores, or check online marketplaces for the most up-to-date pricing information. Prices can vary based on the brand, model, and specific features of the bed.